Throughout these programs, students can learn about the latest software for accounting processes, the forms and data commonly used in the field and methods for assessing and auditing financial records. Read more below to learn about what is involved in general accounting programs all over the U.S.
Courses Expected While Completing A General Accounting Degree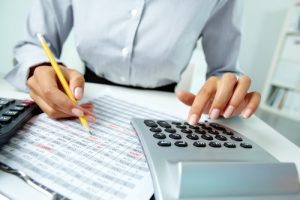 The courses you take during your degree program can shape your understanding of the different concepts in accounting and assist you in becoming a more knowledgeable and valuable professional in the field. Degree curricula are usually carefully designed to provide you with knowledge in several different topic areas in order to help you create a diversified understanding of what accounting means in different settings.
While lower-level degree programs such as the associates program can be a great starting point for upcoming professionals, the most common entry point for students is at the bachelors level. Some of the courses found at this level may include those that focus on the different types of accounting, such as cost or payroll.
In the list below, you can view specific course titles and a snippet of information pertaining to each course. The outline provided can help you gain more insight into the skills you can learn while a student in this program, which can translate to more job opportunities in the job field. Topics such as cost accounting can be very valuable to companies that take part in manufacturing processes or those attempting to minimize costs through careful planning and execution. Take a look at the list below to learn more about these topics.
Intro to Accounting: As an introduction to accounting programs, this course can help students learn about the different components of accounting, balance sheets, income statements and current computer accounting systems. The standard concepts current in modern-day accounting, as well as a look at the historical foundation of accounting may also be included in this course.
Cost Accounting: This course can provide a detailed outline of cost accounting from a business perspective. Accountants can use skills from this course to help analyze costs for more efficient job management. Job costs, orders and planning may be covered throughout this course, so that students can gain a better outlook on what is included in this aspect of accounting.
Auditing Principles: Students enrolled in this course can learn about the basic auditing principles present within the field of accounting. Beginning with the laws and rules pertaining to the auditing process, students can learn how to engage in an ethical and reliable audit of a company's financial records. Current auditing software and tools may also be covered.
Expected Salary Outcomes From An Accounting Degree
As a professional accountant, you could have the opportunity to exhibit your skills within many diverse settings. Accountants can be important key players in insurance companies, businesses, private organizations and even for the government. Since most organizations throughout the country rely on financial transactions and accurate data processing for their success, becoming an accountant can lead to stable career options from start to finish. Depending on the setting you work in, your job responsibilities may also vary.
The list below represents national averages for popular career fields in accounting. Your earning potential in this field can depend on the area in which you live, whether or not you have significant work experience in accounting and the company you work for. Check out the list below to see verified averages for accountants working in these different areas.
Common Job Responsibilities
As an accountant, you may have a very widespread set of duties for your employer, or a very straightforward set of tasks to perform each day. Some professionals work individually within organizations while others work as part of a larger team. Depending on the type of career you hold, you could possibly be responsible for some or all of the duties listed below. As you can see, the career responsibilities of accountants can be vital to the accurate financial processing of companies from various lines of work.
Scrutinizing Financial Records for Accuracy
The responsibility of the accountant is mainly focused on providing accurate financial records. Accountants may spend some time analyzing and interpreting financial records to ensure they reflect accurate purchases, income and other financial data. This can be achieved through reviewing accounting forms and performing a balance check.
Preparing Taxes
Since all organizations may be responsible for filing taxes each year, accountants are often tasked with completing these forms. In this process, accountants must report income, loss and spending for their organization for each calendar year. Providing accurate reports to the IRS may be a primary duty for accountants in businesses of varying natures.
Auditing Financial Records
Whether working independently or being employed by businesses, financial auditing may be a duty of accountants. This may include reviewing financial records prepared by other financial professionals, submitting a report based on the audit and creating a corrective plan when issues are identified.
Preparing Income and Cash Flow Statements
A common day-to-day responsibility of accountants may be maintaining current spending, income and cash flow statements for the company they work for. This may include entering information into accounting software, balancing spending accounts and ensuring accuracy of transactions.
Assisting in Company Financial Decisions
Accountants can be helpful resources for companies making important financial decisions. By providing support from financial records and spending accounts, accountants can make suggestions for change within their organization and help create a plan of action to be implemented for business improvement.
Common Questions About The General Accounting Degree
What is the difference in being an auditor and an accountant?
Both auditing and accounting can be achieved through obtaining your degree in general accounting. While some positions may require professionals to engage in both activities, there are career options that exclusively rely individuals to take part in either job role. Accountants are typically required to provide financial records and advising to their companies while auditors review the work of accountants and financial records for accuracy.
Do you have to be certified as a CPA to work in the field?
While becoming a CPA can lead to better paying positions in the field, it is not required to obtain general accounting positions for businesses and organizations in the field. Some students pursue CPA certification as a means for standing apart from other applicants in the field.
What types of careers can I obtain as a new graduate with no experience?
There are many entry-level careers seeking applicants from accounting degree programs. In private and public organizations all over the country, educated accounting professionals can extend their expertise by providing general bookkeeping, budgeting and cost analysis services to the companies in which they work for.
Estimated Cost/Length of Degree Program
One of the most intriguing components of accounting degree programs is that students can choose to pursue a variety of different degree levels for their career. Students new to the field of education can begin at either the associates or bachelors level to gain access to many entry level careers in the financial field. More experience accounting professionals can move into masters-level programs to help qualify for more diverse positions in the field.
The amount of time and money you can expect to spend on your degree program may be related to the level of degree program you enroll in and the school you choose. In order to give you a better idea of what to expect at each level, our team of educational experts has researched some of the most popular degree programs at varying levels. The information pertaining the time and monetary costs of these programs are listed below. Read through these figures to see what type of program might be a better option for you.
Purdue University: Online Associate's in Accounting – $371 per credit hour – 2 to 3 years for completion
Penn State University: Online Bachelor's in Accounting – $6,742 per semester – 4 years for completion
Auburn University: Online Master's in Accountancy – $26,250 for entire program – 2 years for completion